Take Control
of Your Debt
Our experienced debt settlement team will negotiate your debt to reduce what you owe, so you can start living again!
$1.7+ Billion
Debt Settled
259K+
Customers Served
94%
Customer Satisfaction
A+
BBB Rating
How Century Debt Settlement Works
Evaluation & Enroll
Let's see what's
right for You.
Program Personalization

Time to customize
Your program.
We Get to Work

Strategizing to reach
Your goals.
Live Life
Successful program
completion!
What Clients are Saying
"After just under 2 months with this program, I am pleased to say I am seeing progression to my first debt settlement! CSS crossed my path and I'm glad they did. They're delivering what they said they would. Am I pleased? Let me think… YES. Thanks CSS!"
Robert, Brentwood, TX
"After I lost my wife, I needed to get my financials straightened. Debt settlement is a good way of doing this and the people from Century are honest. Century did an excellent job in my book and I felt very comfortable working with them."
Clive, NY, NY

"It has not been an easy road to travel, Century has been with me every step of the way walking it with me, guiding, answering questions. Most of all is the comfort of knowing you're not alone. Thank you Century!"
Stacy, Flushing, MI
"I am very happy with Century. They work very hard to help and I am completely satisfied. The employees I work with are very helpful and caring. I would recommend this company to everyone. Thank you Century!"
Patricia, Brownsville, TN
"Century gave me back my financial freedom and took away my stress! So thankful for my life back!! Thank you!!"
Linda, Seminole, FL
"Always get treated with dignity and kindness!!!! So much more than I ever thought- they are awesome!"
JacqueLynn, Denver, CO

"I can't lie… I was worried. But you guys pulled through! After 7 months, I have 2 accounts settled. There is a wait but that's due to the negotiations. I have recommended this program to my friends. Thank you…You saved my financial life."
Joshua, Nottingham, MD

"I have been in the program 9 months and I'm so grateful for Century's help and services. I know it's a process, but to be almost debt free is amazing! They have very knowledgeable customer service who go above and beyond."
Jessica, Miami, FL
"Very professional and knowledgeable. Whenever I have had to contact Century they have been extremely helpful and on every occasion my issue/concern has been resolved to my satisfaction."
Henry, Orlando, FL

"This company gets a 5 star rating from me. They have already settled 2 of my accounts and are working on the 3rd. I would recommend Century to everyone!! Very Happy Customer!!! Thanks again Century!"
Tony, Austin, TX
Comparing Debt Relief Options
Debt Settlement.
Reduce Your Debt.
Pay Less than You Owe.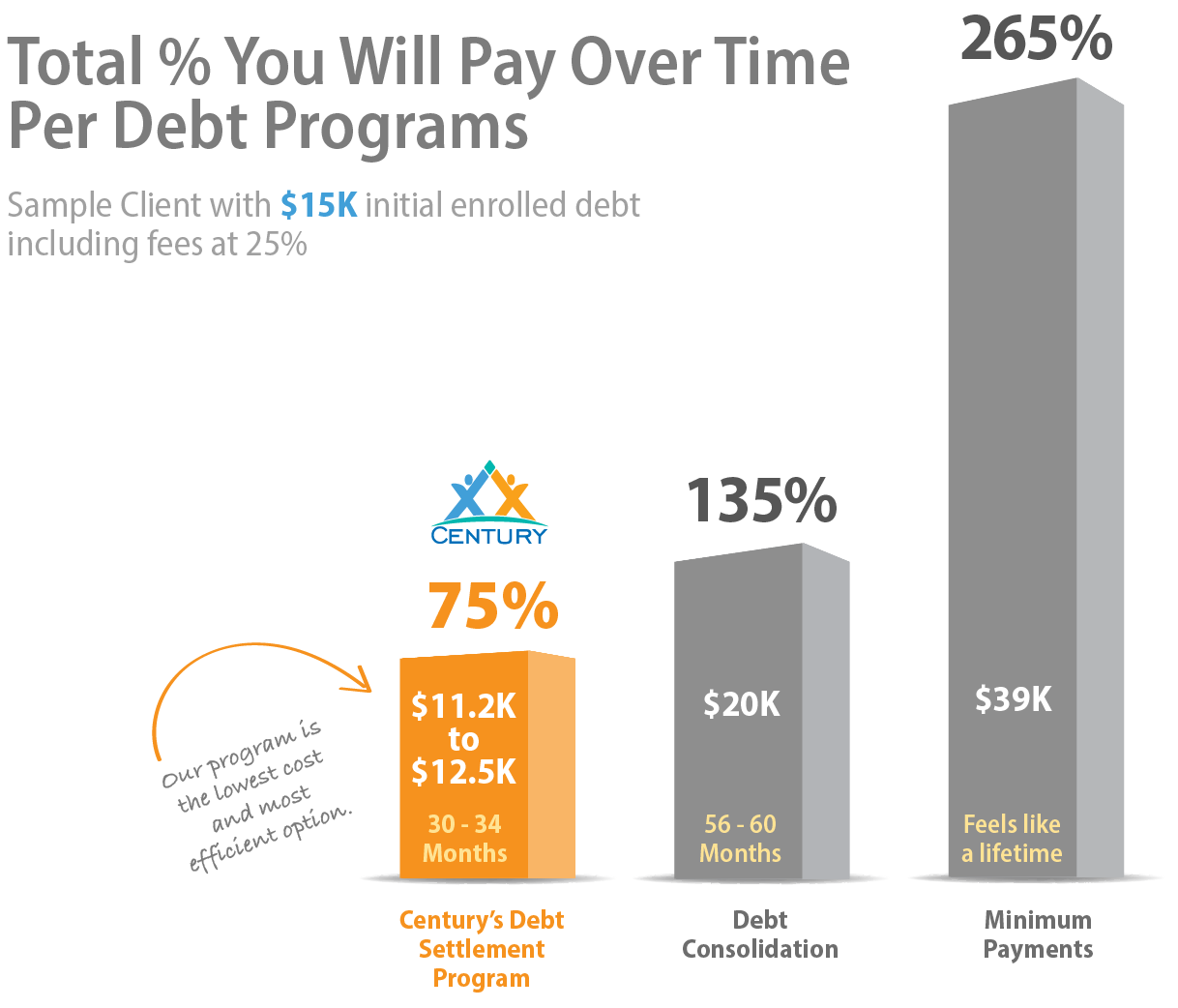 Our Team is Here For You
We understand the financial distress our clients face. Century's mission is to help our clients resolve their debt in the shortest time possible so they can enjoy the quality of life they deserve. With our deep knowledge and experience, we will guide our clients through an individualized debt repayment plan that takes their unique needs into consideration. We understand our clients place a great deal of trust in us and we work every day to earn and keep that confidence. Learn more about Century and our commitment to our clients.

A Note from the CEO
"I'm proud to be part of our passionate team that works hard every day to create excellent customer experiences. We put our clients at the center of everything we do and our 265+ customer-focused teammates are committed to negotiating the best settlement for every client. We strive to earn our client's trust and we promise to listen, understand, and be there through every step of the journey."
Dan FrazierCEO