With the COVID-19 pandemic continuing into the fall, all eyes are on the 2020 flu season. Experts warn that the combination of COVID-19 and a flu outbreak could put major strain on our health care system. Learn why it is important to get a flu shot in 2020 and when the best time to get one is.
What's the Benefit of the Flu Shot in 2020?
The flu is a common respiratory virus. Although flu virus is around year round, outbreaks tend to be worse in the winter. The purpose of the flu shot is to increase your body's immunity against the virus. This decreases the likelihood that you will contact the flu and makes the symptoms milder if you do get it.
With the COVID-19 pandemic, getting a flu shot is more important than ever. Many symptoms of the flu overlap with those of COVID-19, such as fever, cough, runny nose, and gastrointestinal symptoms. Health officials are worried that if the flu season is bad this year, health care facilities could become overrun. The combination of flu cases and COVID-19 cases could make the coronavirus pandemic even worse.
The Best Time to Get a Flu Shot in 2020
In typical years, people had theories about when the best time to get a flu shot is. Because the immunity from the flu vaccine only lasts several months, some people prefer to get it early to avoid the early wave of flu cases. Others prefer to wait until just before the holidays to have a better chance of being protected through the spring. In reality, there's no scientific evidence to suggest that one time is better than another.
Experts say that the best time to get a flu shot in 2020 is as soon as possible, such as September or October. With COVID-19 cases still elevated in the United States, it is important to get early immunity against the flu. This could prevent the flu season from becoming nasty, as more people will be protected against the virus. Some public health officials warn that there could be shortages of the flu vaccine if more people than usual try to get one. That means if you are immunocompromised or are in a high risk category, it's smart to get your flu shot early this year.
How to Get a Flu Vaccine This Year
Wondering how to go about getting a flu shot? The good news is that if you have health insurance, a flu vaccine is free! Simply go to your primary care provider and request one. Call ahead to make sure there are vaccines available, and go as soon as is convenient to ensure you're doing your part to stop the spread of flu. You can also use the helpful Vaccine Finder site to find a vaccination site near you.
We all want to lead healthier lives. However, keeping up with healthcare appointments can be overwhelming: It often seems like it's always time to go to the doctor for one reason or another. In the COVID-19 era when concerns about safety and social distancing are paramount, the thought of spending time in waiting rooms can be even more worrisome. Still, while it may be advisable to delay some non-urgent medical appointments until the virus subsides, experts caution that while the world might have come to a standstill, as a result of the pandemic, diseases did not.
Which begs the question: Which health appointments can wait and which should you be keeping? Here's a closer look at some things to keep in mind, including which visits experts agree can't wait.
A Case-By-Case Basis
In the early days of the pandemic, most healthcare practitioners recommended the postponement of routine checkups, preventative screenings and electric surgeries. However, these delays were a short-term response to an emerging crisis. Now, with the easing up of stay-home requirements, many people are finding that it's not immediately obvious how to prioritize their healthcare appointments as doctors' offices open up.
The best resource for determining which appointments should happen sooner and which can continue to wait? Your physician. Professor of internal medicine at the University of Michigan A. Mark Fendrick, M.D., told AARP that these decisions should be made on an individual basis with input from your healthcare team, who can help evaluate the risks and benefits of in-person visits. "Having that ability to be in touch with your clinician and make decisions with them" is the best way to determine whether you should be seen in the office and for what, Fendrick says.
Experts Say: Keep These Appointments
While your doctor is an invaluable touchpoint in deciding which types of care can wait and which require immediate attention, experts do agree that certain visits and types of care belong at the top of the list These include:
Emergency room visits

Vaccine visits

Quality of life-boosting surgeries

Cancer screenings and follow-up cancer screenings

Visits for chronic conditions requiring in-person monitoring

Dental visits

Physical therapy

Blood tests
Even if you were initially advised to delay an appointment, avoiding further delays isn't just important, it may save your life. According to surgical oncologist and chief medical and scientific officer at the American Cancer Society William G. Cance, M.D., many Americans will receive delayed cancer diagnoses this year, which may lead to thousands of extra deaths over the next decade. So while a brief delay may be okay for most people, a prolonged delay — or one where there's a family history or new symptoms — can be life-threatening. Because of this, doctors also underscore the importance of being your own advocate to avoid being pushed to the back of the queue.
"Safety" is a word we use a lot these days — primarily in the context of COVID-19. However, while the pandemic may be getting the lion's share of attention, many other threats to human health and wellness exist — some of which grow progressively worse without prompt screening, diagnosis and treatment.
The good news is that you don't have to make critical decisions about post-pandemic healthcare visits on your own. In an interview with The Washington Post, internist and president of the American College of Physicians Jacqueline W. Fincher, M.D., reiterated the paramount role of primary care providers in the process. Because even though social distancing mandates may keep us physically separate, "You don't have to be your own doctor; you don't have to make these decisions in isolation," insists Fincher.
If you are looking for relief from your debts and are starting to consider your options, you should keep in mind that each one will affect your credit report differently. Debt settlement may be a wise choice if your debts are taking over your life and you cannot continue paying them. The debt settlement credit score impact depends on the amount of debt you have and how long it takes to settle it. By comparing these effects, you can determine if it's a better choice for you than alternatives such as bankruptcy.
Does settling a debt hurt credit? It depends on your unique situation, but here are a few things you should know.
The Debt Settlement Process
You may have heard about debt settlement, but it's important to understand how it works before you make a decision. Debt settlement starts with a careful analysis of all your debts. Not every loan or line of credit can be resolved by debt settlement. Credit cards and old past-due bills may be good candidates. In many cases, you take this route when you're already behind on the balances.
To start, you create a separate account in which to make deposits, typically instead of making payments to your creditors. Once you've collected a certain portion of your debts, a debt settlement company like Century starts negotiating with your creditors. A successful settlement eliminates the debt, usually for less than what you owe. In exchange, you pay a fee for the service at the end.
How Will Your Credit Score Be Impacted During Debt Settlement?
How long does debt settlement affect credit? It's worth remembering that it will start to negatively affect your report from the first missed payment. The missed payments are likely to continue collecting on your credit until you can settle the debt.
How long does debt settlement stay on your credit report? As a general rule, a debt settlement remains on your report for seven years. Since everyone's credit is different, it's difficult to estimate precisely how it will influence your score throughout that period. You may find that it has a larger effect at the beginning than at the end.
What Happens After Your Debt Is Settled?
The total time period from starting your debt settlement journey to a finished debt relates to the amount of debt and how quickly you can build savings to settle it. This means that you may have more late payments on your credit during that period. The good news is that once you have settled your debt, you can make a plan to rebuild.
Determining how long to recover credit score after debt settlement depends on your current credit picture and how it changes over time. For example, if you have a limited credit history at the time of settlement, it may take longer to improve your credit score. You may notice that your options for new credit lines are limited, as well. Once you can start to replace old late payments with new, timely ones, you will probably see your score start to go up.
Debt Settlement Alternatives
Although debt settlement can help all kinds of people in financial stress, there are alternatives with different possible effects on your credit. Here is how they compare:
Bankruptcy: This process can eliminate debts, but requires you to spend time in court and may force you to sell some of your assets. Bankruptcy lasts on a credit report for up to 10 years.

Debt Consolidation: This is a large loan that you use to roll smaller debts into a smaller monthly payment. You may notice a small dip in your credit at the start. These loans may not be available to people who are already past due.

Balance Transfer: This option might not affect your credit, unless you rack up more debt on the old lines of credit. It may not be ideal for people who struggle to control their spending.
Century Can Help to Repair Your Credit
If you are looking at your debts and wondering if you will ever be able to repair your credit at this rate, you are not alone. A reliable debt settlement company like Century earns your trust by working for you while you remain in control of your money.
Take a free assessment to find out if debt settlement is the right choice for you.
Our process involves a personalized plan and regular support throughout your debt settlement experience.
The Covid-19 pandemic has financially affected many American families, and plenty of people are dealing with significant financial pressures during this time. Whether you're financially secure or living paycheck-to-paycheck, we can all benefit from these helpful financial tips during this uncertain recession.
Create a Monthly Budget to Follow
If you aren't already following a monthly budget, now is the time to draft one. A budget gives you the information necessary to make informed financial decisions, and it's almost impossible to widely manage your money without one. The budget won't dictate what you can spend — you make those decisions — it simply gives you the data necessary to make the decisions you want to make.
Everyone should follow a budget in all financial circumstances, for there is perhaps no single financial tool that's more empowering. When finances are strained during a recession, though, it's especially important to have one.
Reduce Your Discretionary Spending
As you draft your budget, focus on ways that you can reduce your discretionary spending. Discretionary spending is all of the money that you spend which it's essential. It's the money that's spent at your discretion — and that discretion is more often a want than a need.
How much you should reduce your discretionary spending depends on your present financial circumstances. You may need to make major cutbacks if you've been living beyond your means and have sustained an income decrease due to a Covid-19 related cause. Alternatively, you might need to make only minor cuts in your spending if you have savings and a stable income. Almost everyone can stand to make some discretionary spending reductions so that they can save a little more, however.
Build Up Your Emergency Savings
Part of the reason to reduce your discretionary spending is so that you're able to save more, and that savings should go toward an emergency fund. Unless you're quite well off and have a guaranteed job, you probably should focus all of your savings on bolstering your emergency fund.
An emergency fund is a short-term savings that you can access quickly should you need to. It may be stored in your checking account, a high-interest savings account or staggered certificates of deposit (although that's less common). These are all guaranteed against loss and can be accessed quickly if you lost your income source or experience a financial emergency.
Importantly, this savings shouldn't be placed in stocks, mutual funds, cryptocurrency, baseball cards or any other potential investment that could go down in value. The purpose of an emergency fund isn't to get rich quickly or build wealth for retirement. It's to ensure that you have money if you need it, so any account it's put in should be guaranteed. Checking and savings accounts at banks are insured by the federal government.
Financial experts commonly recommend having 3 to 6 months of emergency savings, but you may want to even more given the current recession. Additionally, don't let a 6-month figure scare you from starting an emergency fund if you don't currently have one. Any amount you can put by for a rainy day could help see you through a crisis.
Pay Down Outstanding Debt
If you're comfortable with your emergency fund, paying down outstanding debt is always a wise financial move. It saves you money in interest payments no matter what the economic climate is, and it also reduces your potential risk exposure should something happen. If you can eliminate a debt payment, you'll free up your monthly cash flow by the payment amount once the debt has been eliminated.
Restructure Your Outstanding Debts
If you aren't in a position to pay off debts immediately, restructuring outstanding debts can be another effective way to lessen the burden that they pose. Restructuring can help you pay off debts faster and/or free up money each month by reducing your minimum payments.
One way to restructure debts so that you're able to better manage monthly payments is to enroll in a debt settlement program. A debt settlement program can help you pay off your debts for less than you owe, and it may also help you restructure your monthly payments. If you can't make all of your payments right now, a program might let you choose a payment that you can afford. Contact a Century Certified Debt Specialist to receive your free debt assessment and customized program details.
Strengthen Your Finances During the Recession
No matter where you are financially right now, these tips can help you weather this recession. No one knows what tomorrow will bring, given the many uncertainties that we face, but using a budget, building up emergency savings and addressing debt will help you regardless of what comes.
As the pandemic continues to cause health and economic woes across most of the world, the United States has been moving forward with talks about sending a second round of stimulus checks out to citizens. Like the previous stimulus package, eligible recipients may qualify to receive up to a possible $1,200 payment as well as an additional $500 for dependents.
This second possible payment will again be a one-time payment that will either be directly deposited into a person's checking or savings account if the IRS has that information on file. If the IRS does not have that information, they will send a check payment to the current address that they have on file.
You may be wondering when this second stimulus check will be sent out. As of right now, it depends on when the federal government will approve of the stimulus package bill. On September 9, a skinny bill failed to pass through the Senate as the bill did not contain a second round of stimulus checks to be given to citizens. Instead, it contained funding for small business aid and enhanced unemployment insurance benefits.
There is still time remaining for a stimulus bill to pass through Congress. The president may also act to provide stimulus checks by issuing a new executive order. Here's some information regarding who may receive the stimulus benefits and when they may arrive.
Eligibility Requirements
If the second stimulus check requirements fall in line with first set of rules, then the amount a person receives will be based on their adjusted gross income (AGI). So individuals will be capped again at $1,200 and married couples will have payments capped at $2,400. Social security beneficiaries, US citizens living abroad or in a US territory, and people who do not file their taxes because their salaries are too low will again be eligible under this new bill.
There has been some talk about expanding on who will be eligible to receive dependent benefits from the stimulus check payments. When it comes to dependents, many college students and adult dependents were left out of the first stimulus check disbursement because they were over the age of 16. Proposals in the new stimulus package would remove this hurdle to include any dependent. However, there may be a cap on the number of dependents that a person can claim. At the moment, talks are still ongoing on this matter.
Receiving the Second Stimulus Check
There is only a set amount of days for Congress to be in session before the coming election. So the timeline on when the checks will be sent out will be dependent on when both sides of Congress agree on the bill and when the President signs it. A tentative timeline for when checks may be sent is as follows:
If bill is signed into law on September 23: Sent out the week of September 28

If bill is signed into law on October 2: Sent out the week of October 12

If bill is signed into law on October 20: Sent out the week of October 26
A presidential order will speed up the process. If any such order is given by September 18, then the first direct deposits will go out during the week of September 28. Paper checks will be mailed out during the week of October 5 and EIP cards will sent out during the week of October 26.
To ensure that you receive this second round of payments, check that your current bank account information and mailing address is correct with the IRS if you have recently moved or switched banks. Non-filers who are still waiting for their previous stimulus check for their dependents can go to the IRS website to use their tool to receive payments. Non-filers have until September 30 to receive the previous dependent payment.
Things to Do with the Stimulus Check
Receiving another stimulus check can be the extra money that people need to make rent and mortgage payments, pay for childcare, or obtain necessary laptops and computers for virtual school learning. Since no one knows when a viable vaccine will be ready, another option is to save the stimulus check in case a person loses a job or experiences a medical emergency.
If you are part of a debt management program, you may also want to use some of the stimulus check to make additional payments. By making these payments, you can complete the program sooner and be free of your current debts. If you are experiencing financial hardships and are looking for ways to get out of debt, contact one of Century's Certified Debt Sepcialists who can provide resources and guides that may help you.
Entering a debt settlement program is a big relief for many people because they know they'll eventually come out from under their mountain of debt. However, before entering into a debt settlement arrangement, it's important to understand that it's not a one-size-fits-all solution for each consumer.
If you're wondering how long it takes to pay off debt, Century can help you to set a plan. In general, a debt settlement program takes about 18-48 months, depending on your circumstances. Different factors will change the length of the program for each individual. These variables involve the amount of debt enrolled in the program, the type of debt accounts, who the creditors are, and how much of a monthly payment you can afford.
How Much Debt You Have?
The first factor to consider when calculating how long the debt settlement process will take is how much debt you owe. If you carry high balances, owed to multiple creditors, this will have a direct impact on how long it'll take you to pay off your debt. Keep in mind, debt settlement doesn't necessarily erase all of your debt, but what it can do is:
Help you to resolve debts for less than the total balance of what you owe

Simplify your monthly payments

Avoid filing for bankruptcy
Perhaps most importantly, debt settlement is a great option for resolving debt because it enables you to pay a portion of the debt owed under a structure you can afford.
Why Type of Debt Do You Have?
Consumers looking to reduce the amount of debt they owe, will need to consider the type of debt they've accrued before entering a debt settlement agreement. Generally speaking, unsecured debt is far easier to settle than secured debt.
Unsecured debt
Unsecured debt has no collateral backing, so no security is required. If the consumer doesn't pay back what they owe, the lender has to initiate legal proceedings to obtain money back, or agree to a settlement to recoup some of their losses. Debts that are unsecured include:
Credit cards

Personal loan

Medical bills

Student loans
Many lenders will charge higher interest rates on credit cards to offset the risks of non-payment. Student loans are trickier because it depends if the loan is a federal or privately held account. Federally-held student loans have an assortment of penalties they can impose if borrowers go into default. These penalties can include: garnishing wages, taking away a driver's license, and withholding tax returns, to name a few.
Secured debts
Secured debts are what the name implies, the borrower must put up an asset to serve as collateral to qualify. If they default, the lender has the right to take the asset to repay the loan. Types of secured debts include:
Mortgages

Car loans

Certain personal loans
When it comes to debt settlement, secured debts are more complicated to work with because the loan has assets secured against it. This means the creditor is able to recoup the loan by seizing the asset rather than take a settlement. For this reason, debt settlement companies will not include secured debt into a program in most cases.
Who Are Your Creditors?
The majority of unsecured debt creditors will allow you to settle your debt with them because they know they'll recover at least a portion of what is owed rather than absorb the entire loss. It's important to keep in mind, not all creditors are open to debt resettlement. Those that do typically prefer a lump sum payment, however, this is usually for a much lower amount than the original debt owed. This is a win-win because the borrower experiences a portion of debt forgiveness and the lender recovers a portion of what is owed.
How Much Can You Pay Per Month?
Struggling to get out of debt is a stressful situation. A debt settlement company can relieve your stress by working with creditors to develop a strategy to pay back the money you owe at an amount that doesn't keep you struggling to get out of debt.
You're probably wondering… how long does it take to get out of debt? What it boils down to is how much money you can afford to put aside monthly to pay down debt. The money you put into a designated reserve account (which you control and have full access to) is used to pay off your settled debts once you reach an amount that can be effectively leveraged to negotiate with creditors.
Understand, each creditor is individually negotiated with to obtain a lower lump sum amount. This means, ultimately, the total amount of debt you owe to all lenders will play a significant role in determining how long it'll take for you to become debt-free. Century's experience has given our Negotiators an understanding of how creditors operate and we have proven strategies to provide the most successful results for our clients.
Century Can Help
If you are saddled with more debt than you can handle, Century can help you to get back on track. Debt settlement can help you save money by resolving your debts for less than the full amount you owe and in a shorter time than most other programs. It's our promise to negotiate your debts for you and to continue supporting you through your debt settlement journey.
To get started, you'll receive our free assessment and our Certified Debt Specialists will create a personalized program plan for you.
To learn more about the debt settlement process or if you have any general questions relating to how long does debt settlement take or how long will it take to recover from debt settlement, we're happy to answer any questions.
Contact us today!
All it took was one rough year to put a real strain on Karen's finances. Between the medical bills from a veterinary emergency room visit and the cost of traveling to attend the funeral of a family member out of town, her expenses and ultimately her unsecured debt took an unexpected hit.
With over $10,000 in debt, Karen was making minimum payments on her credit cards but she was struggling to make any progress and her balances continued to grow. She came to the realization that she might be better off getting some debt help, and she made a great decision calling Century.
The Century representatives explained the program in detail to Karen. It made her slightly uncomfortable when she realized she had to allow her accounts to go delinquent and stop making monthly payments. Karen felt responsible to take care of the debts she had created but she trusted the experience the Century team had in handling situations like hers.
Nearly 2 years after enrolling in Century's debt settlement program, Karen has resolved most of her debts and is in the final stages of her last settlement! She also had the opportunity to work with UCAN, a national consumer advocacy group which protects the rights of people who may fall victim to harassment. Their Creditor Intervention Program, which is free of charge to all Century clients, handled harassing calls Karen was receiving from creditors. She was able to have one account resolved by UCAN's lawyers and the debt was completely discharged.
"I'm really excited because I didn't think I would ever get out of debt", Karen stated. "My experience with Century Support Services has been excellent and I'm very happy with them."
"The staff at Century kept me updated on everything and they would email me and let me know when they had negotiated a new settlement opportunity for me. Then I would
decide if I wanted to approve the settlement they negotiated. If I didn't approve, then I would just tell them
and they would negotiate with the creditor again."
"My experience with Century has been wonderful and I'm going to celebrate when I get out of debt! I'm never
getting back into debt again."
Congratulations on your program success, Karen!
We thank you for trusting us to be a part of your journey toward better financial health and celebrate your diligence in staying with the program to make such great progress!
*We protect the privacy of our clients by changing their names and omitting any identifying details.
Just as the name implies, a debt settlement company negotiates with a consumer's creditors to settle their debt for a lower amount than the client initially owed. This amounts to a savings to the consumer.
Sadly, many people have not had a good experience with their debt relief programs, mostly because they chose the wrong company to represent them or did not get the right advice about a solution that would work best for them.
When deciding on the debt settlement company to help you toward better financial health, it's important to choose a company that can demonstrate a few key traits.
A commitment to their clients' success,
Employing trained, experienced, and committed debt specialists, customer service and negotiators.
A proven track record of saving people money and stress from their hardships.
These knowledgeable and committed businesses, do more than just act as debt negotiation services. They support clients before, during and after their program as they make plans to improve their financial position into the future.
Why Are Certified Debt Specialists Important for Debt Settlement Companies?
Consumer Certified Debt Specialists need to learn about their industry and pass a certification exam. Some of this education includes developing the communication skills they will need to educate and counsel clients. They also need to learn about personal financial planning, debt planning, and other topics they can use to help clients.
As with other certified professionals, debt specialists must take continuing education classes to keep this designation. If you're planning use a debt settlement company to help you resolve problems with debt, you will obviously want to work with a company that ensures that their debt specialists have a certification.
Century only has Certified Debt Specialists working with consumers to assess their financial situation and make recommendations for strategies that are customized for them.
Why Look for Debt Relief Services With Experience in Their Industry?
Nobody wants to risk their financial situation using a debt relief service that does not have ample experience. Instead, smart consumers will look for a financial partner with a long, solid history of helping their clients reduce debt, relieve stress, and save time.
As an example, Century has already settled over $1.3 billion in debt for more than 250,000 clients and has been providing debt relief services since 2003..
Ensure Previous Clients Have Enjoyed a Positive Experience
Of course, an essential service of any debt relief company is client support throughout the entire process. The very first part of that support should consist of ensuring that the client chooses the right program for their needs. Once a client agrees and commits to a debt settlement program, it's the provider's job to make sure their clients enjoy positive results.
Strong debt negotiation service companies should have plenty of positive reviews from past customers that demonstrate satisfaction with both the process and results. Consumers should also check third-party sources for ratings and reviews.
As an example, Century has an A+ rating from the Better Business Bureau and plenty of client reviews on their website and from third party review sites.
Shy Away From Upfront and Hidden Fees
People who already suffer from financial struggles, certainly don't need more problems. They need to look for a debt relief program that communicates with total transparency about the fees they charge for their services. The FTC warns consumers to stay away from any companies that want to charge fees before they've settled any debt.
Century only charges fees after they've settled the debt enrolled in a client's program. They clearly state the way the program works, how much and when the fee will be charged. They do not charge any upfront fees.
Look for Personalized Debt Relief Programs
No debt relief service offers the best solution for all people. In fact, good companies will assess prospective clients to make sure they're a good fit for their programs. Remember, high quality services only get paid after they've successfully provided debt negotiation services.It's in their best interest to personalize their recommendations to offer the most successful program option for the client.
Century offers a proven, three-step program for debt settlement that has benefited over a quarter of a million people and begins with a free debt assessment. This assessment allows their Certified Debt Specialists to customize their approach each client.
See How Century Helps People Reduce Debt
To find out if Century can help free you address the burden of unmanageable debt, complete this form online. A Certified Debt Specialist will be assigned to you and be in contact quickly.
To learn more about gaining assistance from an experienced company with a proven track record as an advocate for clients, learn how Century can make resolving debt issues easier and more beneficial for the right clients.
As a type of debt relief, debt settlement involves negotiating with creditors to offer payment on a debt in exchange for a reduction in the total debt amount. Because consumers can reduce what they owe to discharge their debt faster, they also have the chance to free themselves of future interest charges and repair potentially damaged credit sooner. Qualified consumers may find that debt settlement provides them the cheapest solution to resolving unmanageable debt.
Find out how debt settlement works, if it's a good option for you, and how you can get help settling your debt.
How Debt Settlement Works
Debt settlement can be helpful for people who struggle to keep up with monthly payments. Naturally, debt settlement companies may differ, and you're wise to look into how the program works before committing.
This is a three-step process that you can expect:
Evaluation & Enrollment: Our Certified Debt Specialists will provide a free, no-obligation financial assessment to make sure you understand how the program works. We will also personalize your debt relief program to fit your needs.

We Get to Work: With your reserve account growing, we start negotiating with your creditors. Working on your behalf, to obtain the best settlements, for your program SUCCESS.

Live Your Life! With your program complete and the stress of overwhelming debt gone, you can start living your best life once again.
Is Debt Settlement Right for You?
Is debt settlement a good idea for you? Any high-quality debt settlement company will know that their solutions benefit many people but will not provide the best solution for others.
In general, people who benefit:
Have multiple payments to make and find it a struggle to pay them

Have recently suffered such hardships as health issues or job losses that made it difficult or impossible to keep up with debt obligations.
Typically, people who have less than $5,000 of debt won't benefit from debt settlement. Also, if people only have house and car payments (secured debts) or only one source of debt, they should probably look into other options.
Is Debt Settlement Risky?
People can benefit from debt settlement, but they should always understand that credit scores may be affected. Many consumers are already experiencing less than optimal credit scores, with delinquent debt accounts, when they seek out debt relief. With debt settlement program strategies in place, a client can experience a negative impact on their credit score. By resolving these debts through the proven program strategies, they have the opportunity to take back control and rebuild any possible reductions in their credit score.
Also, highly experienced and trustworthy debt settlement companies like Century, only charge fees after they successfully negotiate debt. You should always remain wary of any company that wants to charge a fee before they perform their services.
When considering debt settlement, one of the best ways to cut down on risk is to take time to research companies and learn how various programs work before committing to any debt settlement service.
Learn How Century Can Help
Is debt settlement worth it? A 2017 study from the American Fair Credit Council found that typical, qualified consumers saved $2.64 for each dollar they spent in fees. With that said, everybody needs to ensure they're well-qualified for this solution and working with a high quality, ethical debt settlement service. Depending upon the situation and the amount and kind of debt, debt settlement can work out to be the cheapest solution.
To learn more, take a free assessment from Century to receive your personalized plan.
Consumers who choose to move ahead can count on Century to negotiate debt and provide a variety of support during the process.
COVID-19 has rocked the global economy and left millions of people unemployed. In the US, more than 20.5 million people are unemployed because of the pandemic. If you are one of the affected individuals, you are probably wondering whether you will go back to your old job or secure a new one. The ability to secure a job after the epidemic depends on the industry that you are in and your job title. Let us look at the various industry facts and discuss what you can do if you do not get your job back.
A Look Into the Service Industry
The service industry is one of the most significant contributors to the country's GDP. When the pandemic hit, the industry was among the first to implement the stay-at-home orders. However, most jobs in this industry are most likely to return. Here are some of the jobs that will probably hire back workers.
Retail Workers
Retail businesses shut down in April, rendering about 2.3 million people jobless. Currently, many stores have opened up, and about 368,000 jobs are available. The jobs are available mainly at general merchandise stores, car dealers, and clothing shops.
Bartenders and Kitchen Staff
Restaurants and bars were shut down for dine-in customers when the pandemic hit. However, they remained open for delivery, takeout, and drive-thru. The demand for these services created about 1.2 million new jobs in hospitality, mainly bartenders and kitchen staff.
Beauty and Wellness Jobs
Most spas and salons shut down in late March. In May and June, a number of them began to open up, and customers flocked in. Most clients needed nail care, haircuts, and several beauty treatments.
Other Non-Service Jobs That May Return
Non-service jobs may make a comeback. Some of these jobs include:
Construction Contractors
The government has loosened some building restrictions and is supporting construction workers. From May, construction contractor jobs have increased by 325,000.

Medical Professionals
Numerous elective treatments for conditions that are not life-threatening were put on hold in March and April. They resumed in May, and since then, about 312,000 positions were open.
What Next if Your Job Does Not Return?
Do not lose hope if you do not quickly get a job after the pandemic. There are several steps that you can take to protect your future and finances. Here are some of the steps.
Reduce Your Spending
While you are still out of work, try making some lifestyle changes that will help you save money. You can start by limiting the number of times you eat at restaurants, getting rid of cable, and stopping unnecessary spending.
File for Unemployment Benefits
You may be entitled to unemployment benefits if you lost your job or if your hours were cut. Even though unemployment laws are different in each state, there is a possibility that you may receive half of what you were making at your previous job for about 26 weeks.
Consider Getting a Job In a New Industry
Do not be too rigid. You can explore industries that are high in demand, such as the service industry. A job in a new field may be the answer to your unemployment problem.
Ensure That Your Healthcare is Taken Care Of
Illness or injury can occur when you least expect it. To alleviate any financial burden that may result from an accident or disease, ensure that you have health insurance.
If you are finding it difficult to secure a job and are worrying about late credit card payments, you should know that debt relief assistance is available. Our team is here to support you with effective debt solutions.
This has been one of the strangest summers on record for many people. And while uncertainty abounds at the moment, at least one thing is for sure: A return to school is coming — even though it may look very different this year. If you're wondering how to prepare for back-to-school season when you don't even know what school will look like yet, you're far from alone. In honor of August's Back to School Month, here's a closer look at what to expect this fall, along with tips for helping your family cope with the many challenges of this unprecedented time.
Virtual, Face-to-Face or a Hybrid?
With schools all over the country starting to roll out their recovery and reopening plans for fall, one of the most startling things we're seeing is how different they are. Proposed strategies include everything from staggered schedules and longer school days to temperature checks, routine sanitizing and social distancing in classrooms and buses. Meanwhile, while most experts agree that masks should be worn, many parents and teachers alike are questioning whether it's possible — especially in early childhood education settings.
Meanwhile, whenever and whatever your school district decides, plans are subject to change due to the fluid nature of the situation. "We'll have to see on a step-by-step basis as we get into the period of time with the fall about reopening the schools, exactly where we'll be in the dynamics of the outbreak," Dr. Anthony Fauci, director for the National Institute of Allergy and Infectious Diseases, told Education Dive.
The takeaway? With so much in the air, planning is hard. And yet the more proactive we are about managing expectations, the better we'll be able to face what's ahead.
Supporting Your Family's Health and Wellness
There's no denying that all of this ambiguity is creating stress for many families, especially in cases where parents must return to work with young children who can't be home alone. Additionally, many families are struggling financially and lack the resources necessary to support virtual learning.
The priority through these challenges? Safeguarding the health and wellness of kids, most of whom have experienced major disruptions to their daily lives because of the pandemic. Helping them understand that a "new normal" is coming is important, as is focusing on the positives of the situation. Whether they're scared to go back to school, worried about wearing a mask, or feeling isolated from friends after not seeing them for months, children are resilient, but will also benefit tremendously from reassurance from the adults in their lives.
For the good of everyone, this means attending to your own feelings, too. "As children often take their emotional cues from the key adults in their lives – including parents and teachers – it is important that adults manage their own emotions well and remain calm, listen to children's concerns, speak kindly and reassure them," cautions UNICEF.
Persevering toward your Financial Goals
As a visitor to this website, it's clear that the financial health of your family is also important to you. Unfortunately, the COVID-19 pandemic may have been a setback in this respect. Between the inability to work, childcare issues, and other unexpected obstacles, it may feel especially hard to stay on track toward your financial goals. And yet committing to doing so is more important than ever.
Some ways to keep your family's costs low during COVID-19 including reevaluating your household budget, meal prep, reducing energy usage, growing your own food, buying in bulk, taking advantage of digital coupons, and looking into reducing your home and car insurance premiums. While these savings may seem small, they add up. Also, be sure to take advantage of resources for families in your area, such as free or reduced lunch programs and electronic device loan programs.
Another bright spot? Communities, schools and educators are working diligently to ensure that kids and families have what they need to succeed. "It hasn't been easy, and this health crisis presents us with a whole new set of challenges. But we're going to continue to fight through it to make sure that our kids have the best possible education," teacher Michelle Polo-Thorpe told USA Today.
One thing COVID-19 has taught all of us is that we can't know what tomorrow will bring. By accepting that things can and will change and by keeping your priorities at the forefront — including your family's physical, mental, emotional and financial wellness — you can position your family not only to survive these troubling times, but to emerge stronger on the other side.
Financial awareness extends beyond merely knowing what state your personal finances are in, although that's certainly the start of becoming financially aware. The full scope of awareness includes being smart with money — and that's never more important than during a pandemic that has brought great economic uncertainty. To help celebrate National Financial Awareness Day on August 14th, we've compiled a step-by-step guide to becoming financially smarter during the COVID-19 pandemic.
Step 1: Shore Up Your Emergency Fund
The COVID-19 pandemic is an emergency, and it certainly calls for having a sizeable emergency fund available. Even if you aren't in a personal financial emergency now, you could face an economic crisis in the coming weeks, months or (perhaps) years. Until this pandemic is over and the economy is recovering, having access to savings will provide essential reassurance against what could go wrong.
Depending on your current financial situation, there may be several ways that you can shore up your emergency fund:
Migrate the fund to a high-interest savings account: Your emergency fund should be in a bank account that's only used for the fund so that it's not accidentally spent, and one of the best types of accounts to use is a high-interest savings account. A high-interest savings account will pay a slightly higher interest rate than a checking account or a regular savings account, which will help your emergency fund grow a little.

Contribute to the fund on a regular basis: Regardless of what you're trying to save up for, developing the discipline to make regular contributions is essential. Every pay period or every month, make another contribution to your emergency fund.

Consider forestalling investment contributions: If you know you face an imminent financial crisis, consider forestalling investment contributions to your retirement or children's college savings accounts. This should only be done with caution and on a temporary basis, for you don't want to permanently stop investing. If you need more funds in the immediate future, though, this can be a way to quickly boost your emergency fund.
In general, building up an emergency fund that's equal to between 3 and 6 months of your expenses is a good idea. As long as the pandemic continues, you might want to build up your emergency fund indefinitely so it's even larger.
Step 2: Reduce Your Living Expenses
Whether you need to build up an emergency fund or stretch one as much as possible, reducing your living expenses will let you save up more and survive longer on less. In addition to buying generic and using coupons, there are some additional ways to save money that are especially relevant right now:
Eliminate vacations: Vacations are a major expense of many people's annual budgets, and they often need to be eliminated when expenses have to be cut back. With the crisis of COVID-19 continuing, this is an obvious expense to cut from your budget.

Stop dining out: Dining out is a larger discretionary expense in many monthly budgets, and it's one that you can stop for now. While people have different assessments on dining and the risks of COVID-19, the economic benefit of eating at home is obvious. Purchase yourself a nice steak or fancy seafood to cook at home, and you'll still spend less than what a restaurant meal costs.

Wait 24 hours before buying online: Online shopping can be seductive, and who hasn't bought something they don't actually need because it looked good or was on sale? To limit impulse buys online, leave everything in your shopping cart for 24 hours before you check out. If you still want it a full day later, go ahead and make the purchase. Many items won't seem as necessary later.
Step 3: Pay Down Your Debt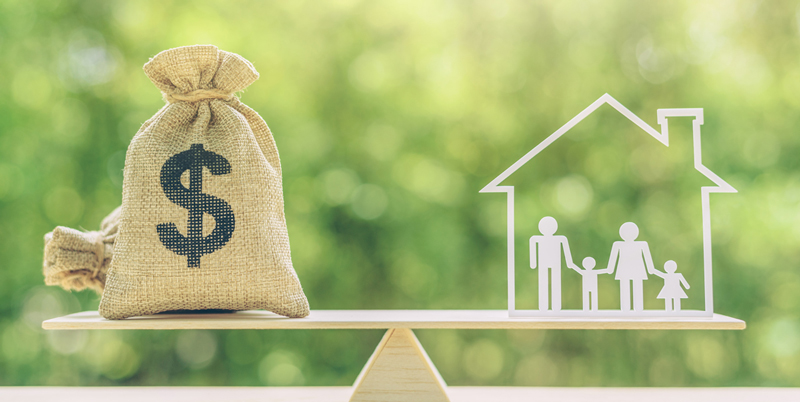 If you have an emergency fund in place and still have extra money in your budget, work on reducing your debt load. This will both help you better navigate any personal financial crisis you might face and put you in a better financial position once the COVID-19 pandemic subsides. To pay down debt, you can:
Bring late payments current: Making extra payments on past-due accounts will improve your credit score, reduce late fees and give you more flexibility going forward.

Use the debt snowball method: The avalanche and snowball methods of paying down debt each have their merits, but the snowball method is better suited to an economically uncertain time. When you pay down your smallest debts first, you lower the monthly minimum payments you must make. Reducing these can help if you face a financial emergency.

Enroll in debt settlement: A debt settlement program can help you make regular, budgeted payments and settle one debt at a time. The program can reduce how much you have to pay off, and it can often be adjusted for your particular situation — making debt settlement a viable option during the pandemic.
Wherever you are financially, this is a time to improve your situation. Make efforts to improve your emergency fund, reduce your monthly expenses and pay down debt, and you'll be more able to manage the COVID-19 pandemic's economic fallout and succeed financially once this terrible pandemic is over
Century's Debt Specialists are ready to review your situation and determine if our program is a good fit for you!
or Call: Call:855-417-6648